Autumn & Sagi's Sculpting Workout Program
The Master's Hammer and Chisel Workout
Beachbody's newest program is a brilliant sculpting workout that is a collaboration between the 21 Day Fix's Autumn Calabrese and Body Beast's Sagi Kalev.
Let's dig in a little deeper and fill in any blanks, shall we?
Who is Autumn Calabrese?
Autumn Calabrese is a professional fitness trainer and national bikini competitor who is most known for creating two of Beachbody's most popular program—the 21 Day Fix and 21 Day Fix Extreme and the Portion Fix Eating Plan that is now Beachbody's core nutrition program.
She holds personal training certificates from the National Academy of Sports Medicine and the American Fitness Professionals & Associates. Her reputation has been solidified in the fitness world by helping people lose weight and get fit by giving them the tools to build a foundation of good food choices and consistent exercise habits. The structure of Autumn's simple portion controlled nutrition program changed Monica's life. She is now one of Autumn's biggest cheerleaders and a 21 Day Fix specialist.
Who is Sagi Kalev?
Sagi Kalev is a body building expert who is the first trainer to bring this fitness regime to Beachbody with the wildly successful Body Beast workout.
Sagi is a renowned expert in bodybuilding and physique transformation. His education and accomplishments are in depth and numerous and include a degree in physical education, Master Professional Personal Trainer, Clinical Nutritionist, Nutrition Specialist, and Functional Diagnostic Nutritionist certifications, and a two-time winner of the Mr. Israel title.
What is The Master's Hammer and Chisel?
These two awesome, and massively qualified, personal trainers got together and created Beachbody's most comprehensive sculpting workout program yet.
At it's core, it's a 60 day resistance training system that was designed to build powerful muscles and melt body fat using all three phases of SSP training (stabilization, strength and power). There are a total of (12) 30-40 minute workouts and a customizable nutrition plan based on Autumn's fabulous Portion Fix system.
Sagi is the Hammer—guiding you through your power and strength training workouts. Autumn is the Chisel—honing in on stability and balance. They make a FABULOUS team!
Master and Chisel Reviews
Here are some early Master and Chisel testimonials from a mix of customers and coaches who took part in the test groups:
"At 40 years young, I look the best I've ever looked and I feel like I'm 25. I wish I could bottle this feeling and sell it."—Becky B.
"I can't say enough about The Master's Hammer and Chisel. It's my soulmate program for sure!"—Niki W.
" I feel absolutely amazing! I'm less stressed, have more energy and sleep great."—David A.
"Working out with two trainers is awesome. Autumn and Sagi have so much to offer, and motivated me in different ways."—Danette A.
" This isn't a half-ass workout. Be prepared to learn, to be challenged and to see crazy results."—Emma W.
Who Should Do the Hammer and Chisel Workout?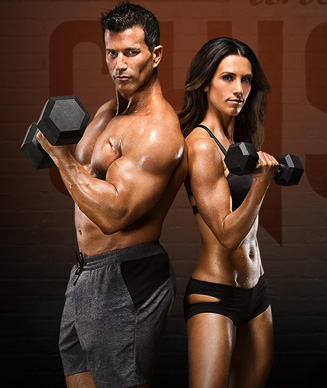 Of course, ANYone can do this sculpting workout program…but, it'll appeal to some more than others.
You'll probably be crazy about it if:
You're a fan of Body Beast
You adore the 21 Day Fix and/or 21 Day Fix EXTREME
You love Autumn and/or Sagi
You want to get (or maintain) a lean physique, build muscle, and sculpt your body
Head over to our The Master's Hammer and Chisel page for more info.
Get Coached for FREE!
First, if you don't already have a Beachbody Coach, or you're looking to make a change, click HERE to get started with us.
Then, get the workout and start sculpting!
Father, retired attorney, cyclist (road & track), skier, surfer, recovered triathlete, half of a dynamic coaching team and co-founder of the Fit Club Network. Living my passion as an entrepreneur helping people achieve their fitness and financial goals.